Add a Backyard Pond for Peace and Relaxation
When you come home stressed out after a hard day at the office, or when you put your kids to bed and you're ready to relax, where do you turn? Some people like to read a good book. Other people prefer to turn on the TV and have a glass of wine. Even others like to take a bath. However, some people like to be out in nature. In fact, nature has been proven to reduce stress and help you relax.
Bring Nature Home
Most of us are happiest when we are in nature. Even the park down the street may not be the most relaxing place to go, though, especially if there are cars driving by or children yelling. Instead of looking outside of your own home for nature that will help you relax, what if you could bring it to your house?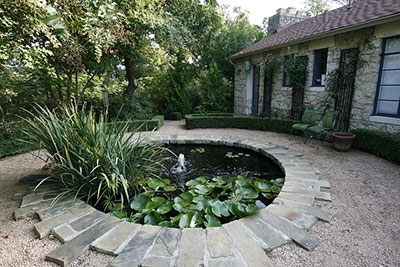 A backyard pond can do just that! If you build your pond properly and design the landscape just right around it, you can make a refuge of peace, relaxation, and healing right in your backyard. Building a pond might seem like a lot of work, but it's actually not that much. Once you get the pond installed, maintaining it is not that hard.
You may want more than just a backyard pond. If your home is easily visible by neighbors or passers-by, you may want to change your landscape design so that you make a secluded little nook by your pond. You can do this with tall trees, tall grasses, some kinds of bushes, and other plans. You can also use retaining walls, and rock walls, to help keep outside sounds and prying eyes away from your haven of rest.
Using Your Backyard Pond to Relax
Once you have your pond installed, find some simple, beautiful outdoor furniture to put around it. This can be a lounge, some tables and chairs, or anything that invites you to sit down and relax a little bit. Place these strategically around your pond, so that everyone in your family can benefit from its relaxing waters.
It can help to visit your pond at the same time every day. Maybe you want to stop in right after work or spend 15 minutes outside right before you go to bed. Only you know when you need to relax the most, and what works best for you, your situation, and your body.
When you visit your pond, leave your phone and other electronics inside. This might seem difficult at first, but it will actually help you gain the most benefit from being in nature. Once you're outside, you won't be distracted by your phone or your tablet, so you'll be able to take in the natural sights and sounds around you. Add to this by closing your eyes. this will help you imagine yourself in an even more natural setting. Take a few deep breaths, and you might be surprised at how clear your mind is after spending just a few minutes by your backyard pond. Over time, you may find that your backyard pond helps you become less stressed and happier overall.